The Zombies - Odyessy & Oracle
1968
CBS BPG 63280
Track List:
Care Of Cell 44, A Rose For Emily, Maybe After He's Gone, Beechwood Park, Brief Candles, Hungup An A Dream, Charges, I Want Her She Wants Me, This Will Be Our Year, Western Front 1914, Friends Of Mine, Time Of The Season.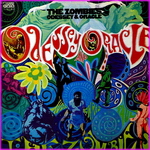 Review:
This album is an amazing accomplishment no matter how it is examined by the listener. This album rivals the greats in its genre (Pet Sounds, S.F. Sorrow, Sgt. Pepper, Piper at the Gates of Dawn). This is a MUST for any fan of the psychedelic era of music. The song writing is very mature and the production makes it come alive in a way that can only be understood by listening to it.
The engineering is a triumph in and of itself. It includes the hit "Time of the Season". There's some really happy vibes in this album....it's definitely a feel good record.
Definitely recommended.
Reviewed by Mad Hatter.

Review 2:

Stumbling across a battered copy of the classic 60's alternative rock sampler "The Rock Machine Turns You On" in my parent's vinyl collection as a teenager in the early 80's proved to be one of those life-changing events. Other than the Beatles, that album, was my first introduction to psychedelic music, in the form of luminaries such as Notorious era-Byrds, The United States of America and Spirit. More importantly it lead me to one of the greatest psychedelic pop treasures, The Zombies "Odessey and Oracle".
The recording of "Odessey" began at Abbey Road, straight after "Sgt Pepper". Legend has it that to their dismay, the sound engineers were instructed to leave the recording equipment in the state of disarray that The Beatles had created to achieve the sonic experimentation of their psychedelic masterpiece. Indeed the spirit of creativity that defined "Sgt Pepper" positively courses through "Odessey".
The Zombies are often misleadingly labelled with the "British Beach Boys" tag. The opener "Care of Cell 44" is probably as close as they got to sounding like their Californian contempories. "A Rose for Emily" although a sad track in the "Eleanor Rigby" vein is a purely uplifting experience due to Colin's angelwhisper vocals and the band's soaring vocal harmonies. Next up is "Maybe After He's Gone", one the album's stand-out tracks, based around a spine-tingling melancholic verse from Colin and another harmony-laden chorus. Another stand-out track comes in the shape of "Beechwood Park". Impossible to listen to this and not think of "Whiter Shade of Pale". The nostalgic imagery of late summer evenings chilling in the park make this one the most evocative of the period.
Another strong track is "Brief Candles" this time with a soft harmony verse and driving chorus from Colin. What is most notable here is the atmospherics created by the echoing piano of the outro. Next as if it can't get any better we come to "Hung Up On A Dream". Here the band distill the finest elements of their music, swirling mellotron, atmospheric piano signatures, choir boy harmonies and Colin's vocal perfection to take us on a journey through a Utopian dreamworld for the most beautiful track.
Their ability to create orchestral splendour with just piano and mellotron is staggering genius. "Changes" is a curious two-part track with the choir and mellotron interplay of the opening and a clever one piano note accompaniment to Colin's kaleidoscopic lyrical imagery. "I Want Her, She Wants Me" is catchy Baroque pop with Rod on lead vocals. The track has a Revolver-esque feel, like an up beat "I'm Only Sleeping". The bouncing optimism of "This Will Be Our Year" proved sadly ironic given the bands dissolution shortly after its release. In "Butcher's Tale" there is powerful portrayal of the horrors of the trenches of WW1 as a shockingly blunt anti-war message for the Vietnam-era. "Friends of Mine" is my least favourite track, whose only positive is its Kinks-like sound and lyrics.
Then finally, in all of its glory "Time of the Season". What can I say about this that hasn't already been said? Drop dead cool bass and drum intro joined by Colin's vocal at its most laid back and sexy, a stylish chopping guitar riff and one of the greatest organ breaks in the history of pop music to top it off.
Why this album did not chart in the UK is a mystery. What does compensate however is that like other great 60's albums such as "Forever Changes" that sold poorly on release, "Odessey" has now become one of the most enduring and fondly remembered albums of the 60's. This is probably testament to its artistic triumph of maturity and quality that transcends the stylistic preferences of the day, no unecessary use of sitar or phased guitar for the sake of it, just glorious psychedelic sunshine melodies.
Submitted by Simon Allen - December 2002